It's a sobering fact that up to 95 percent of cancers are linked to environmental and lifestyle factors with 30 percent of cancer deaths linked to diet. The importance of reducing unhealthy fats, processed foods and meats, sugar and alcohol is well known. But how you actually do this in practice is a lot harder than we like to admit!  Avoiding poor dietary choices is definitely an approach that can help to lower your cancer risk, but if you're hoping for something requiring a little less willpower to inspire you to take preventative action, you're in luck.
Enter the research of world-renowned cancer prevention expert and Harvard trained medical doctor, Dr William Li. Rather than a list of what not to eat, in his book Eat to Beat Disease, Dr Li shares some surprising new evidence to help you heal and prevent disease while enjoying the foods you already love. From plums, tomatoes, olive oil, black beans, tea, to chocolate, and even cheddar cheese, red wine and beer, you'll learn how by eating certain foods your body can actually heal itself.
The new science of how the body can heal itself
Using the same system and methods that have been used to discover and develop drugs, the results from food testing are now available to assist you to make decisions about what to eat and drink based on real scientific evidence. This is truly a revolution in our understanding and approach to fighting disease. And with the number of people contracting non-communicable diseases around the world rising dramatically every year, it couldn't come at a better time.
Over a series of posts, I'll be sharing ground breaking research from Eat To Beat Disease – revealing the body's five major defence systems (there's a lot more to it than just your immune system) and the health benefits associated with some of the more than 200 foods researched for the book.
Most importantly you'll learn how eating these in the right quantities and prepared the right way, can help you stave off cancer, as well as reduce your risk of dementia and hundreds of other diseases. You will gain the tools to effectively tailor your diet to address targeted areas of your health you're concerned about, or where you may have a family history of disease.
Angiogenesis – introducing your body's powerful defence system
While everyone has heard about the immune system, the body actually has five defence systems that form the key pillars of health—angiogenesis, regeneration, DNA protection, microbiome and immunity.  In coming posts you'll learn about each of these protective systems and the unique ways in which they are influenced by diet.
Angiogenesis is the process by which blood vessels are formed and maintained. When you consider angiogenesis is the common denominator in over 70 diseases including the big killers heart disease, stroke, diabetes, Alzheimer's, obesity and cancer impacting over a billion people worldwide – it makes good sense to understand more about this vital bodily process and how to enhance your diet to support its proper functioning.
Blood vessels are essential to your health, bringing oxygen and nutrients to every part of the body, We are literally packed with them, with close to a 100,000 kilometres worth in typical human body – enough to wrap around the planet –twice. Our capilleries, the smallest blood vessels, number about 19 billion.
A healthy angiogenesis system regulates when and where blood vessels should grow including preventing tumours from developing a private blood supply and expanding. As Dr Li says, its because of this powerful natural defence system that cancer doesn't have to be a disease. Tumours that develop due to mistakes in our DNA are kept microscopically small when they are starved of the blood supply they need to grow. Check out Dr Li's Ted talk to find out more.
Eat right, starve your disease
The good news is that there are more than 100 foods (discovered so far), that inhibit angiogenesis by over 60%. These largely plant-based foods help your angiogenesis system maintain homeostasis and also starve your cancer. Foods with anti-angiogenic properties which inhibit the growth of blood vessels include soy, tomatoes, black raspberries, pomegranate and even liquorice, beer and cheese.
Let's dive into five of these below.
Soy
A number of large studies have shown that isoflavones in soy including genistein are anti-angiogenic and helpful in combatting cancers such as breast, prostate and lymphoma. Contrary to the confusion about the phytoestrogens in soy being a contributor to breast cancer, the opposite is in fact true—soy phytoestrogens actually interferewith estrogens in the body blocking their ability to fuel certain cancers.
So reduce your risk of breast cancer and get some healthy protein with natural, fresh and traditional soy products such as soy milk, soy beans, endamame,  tofu and tempeh (avoiding the overly processed variety found in commercial foods) The beneficial amount  to include in your diet is 10 grams per day, which is the amount found in a cup of soymilk. Fermented soy has higher concentrations of the good stuff.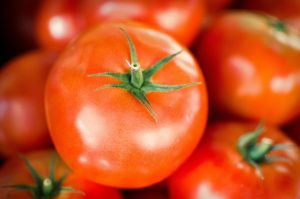 Tomatoes
This everyday food contains many useful bio-actives for your healthy, including lycopene which has been shown to be a potent angiogenesis inhibitor.  For the biggest benefits cook your tomatoes and leave the skin on – this is because the skin has five times more lycopene than the flesh and cooking the tomato makes the lycopene more easily absorbed by the body. And because lycopene is fat soluble if you cook your tomatoes in olive oil the amount of lycopene absorbed by the body is trebled.
More than thirty studies have shown the protective effect of tomato consumption on prostate cancer – with consumption of two to three cups of tomato sauce per week being associated with a 30 percent decreased risk.Of those men who did develop prostate cancer the ones who ate more tomato sauce had less aggressive cancers.Red black-skin tomatoes (like Black Russians) and yellow tomatoes have higher lycopene that is more readily absorbed by the gut.
Tea
Studies into tea show that they have exceptionally powerful anti-angiongenic properties comparable even to that of drugs. Early Grey followed by Jasmine (China) and then Sencha (Japanese) are the most potent, with a mix of Jasmine and Sencha giving the greatest impact on angiogenesis.
Green tea has long been held up for its health-giving properties in particular due to the polyphenol EGCG which not only reduces angiogenesis and cancer growth, but also lowers blood pressure, restores homeostasis of immune cells and has antioxidant and anti-inflammatory properties.  Drinking two to three cups of green tea a day is associated with a 44 percent reduced risk of developing colon cancer.
In terms of herbal tea chamomile tea also contains bio-actives that have antiangiogenic activity and can be included as your nighttime cuppa.  Make sure you buy leaf tea in small quantities so you ensure a fresh supply—the bio-actives and flavonoids are stable for up to two years when stored well.
Cheese
At last some good news I hear you say. While cheese is high in saturated fat and salt it also contains antiangiogenic Vitamin K2. The highest amounts being found in Munster, Gouda, Camembert, Stilton and Emmenthal. The amount of Vitamin K2 found in your diet has been linked to cancer prevention, with two to three slices of cheese per day shown to be associated with a whopping 62 percent reduction in the risk of lung cancer, and a 35 percent reduction in prostate cancer both from large long-term studies. Cheese is a food we might normally think we need to avoid, so its great to hear that it has the potential for health benefits when consumed in the right quantities.
Fruits
Apples, berries and stone fruits rate highly for their cancer fighting and preventative qualities. While all stone fruits are beneficial if you have to choose, go for plums and apricots. There are hundreds of varieties of apples, but the most potent of the types commonly available at the store or market are Red Delicious, Granny Smith or Reinette (Little Queen) apples.
A key conclusion from a massive European study into cancer and nutrition (EPIC) that took place over twenty years was that berry consumption lowers your cancer risk. One fifth of a cup of berries of any type per day was shown to provide a 22 percent reduced risk of getting lung cancer. Black raspberries are particularly powerful slowing the growth of precancerous colon polyps. And women eating one cup of fresh blueberries per week had a 31 percent reduced risk for breast cancer.
The lowdown
All in all angiogenesis is a very exciting area of research with a range of drugs coming onto the market that can target cancer growth and spread in a targeted way – particularly in relation to kidney and colorectal cancers. However breakthroughs in drug treatments involve tremendous investment in research time and costs and are not scaleable for all the people in need.
Clearly we need to look at prevention as our best bet for staying healthy individually and collectively. And as the links between poor diet and the incidence of preventable disease can no longer be ignored, food will play an increasingly essential role.
You can begin today by consciously incorporating foods that support your body's circulation system and stop it from growing out of proportion. Depending on your needs, there are also foods that can help encourage angiogenesis and improve blood flow— which is of benefit for wound healing, and healthy heart and organ function. Find out more from Eat to Beat Disease and www.drwilliamli.com
Stay tuned:Next time we will look at the body's regeneration defence system and the foods which support it.